So you want to make a presentation? Welcome to the club.
When presentation design software first became the *next big thing* there was really only one player on the market worth mentioning...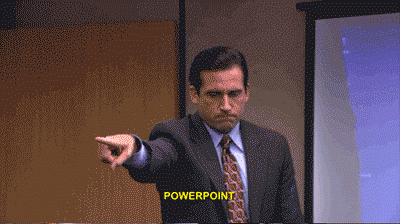 Folks, we've come a long way since Office 2003. PowerPoint may be a tough king to topple, but there really are tons of options out there for your presentation needs. 👑
Maybe you're looking for a change of pace, need a more collaborative platform, or are just plain sick of seeing the color orange on your screen. Or heck, maybe you're a diehard PowerPoint fan (ahem, me) and just clicked on this article to see if I could convince you to use a different program.
Whether you're a PowerPoint-power-user, a casual presenter or anything in between, you've got choices. I know choice can sometimes be… confusing... so I made this handy dandy guide to the most common alternatives to Michael Scott's favorite presentation platform.
Do they beat PowerPoint? I'll leave that up to you.
TLDR: Frequent presentation creator? PowerPoint. Die hard Apple user? Keynote. Intricate graphics or image effects? InDesign. Want to shake things up? Prezi. Heavily collaborative or looking to save some $$$? Google Slides.
Keynote
Think PowerPoint, but made by Apple.
Okay okay, so maybe there's a little more to it. Keynote is part of the iWork productivity suite. It comes pre-installed on any Apple computer/iPad you buy, making it an accessible option if you're already an Apple user.
According to Apple, Keynote features a "clean, intuitive interface that puts important tools front and center." It's helpful to have all the commonly used tools right at your fingertips. Eliminate the need to click around tabs for the align tool that you use every. darn. time.
Keynote and the Adobe suite have more compatibility than some of these alternatives. So if you're a frequent Adobe user, Keynote may be an easy transition for you. Be warned, if you're a frequent PowerPoint user, the Keynote interface will be tricky to navigate at first.
Pros: No additional cost to install (if you already use Apple products). Use it on iPad and iCloud storage. Offers a great selection of templates.
Cons: Less support documentation online (when compared to PowerPoint), and compatible with macOS only.
Google Slides
I must say, I'm impressed with Google Slides. Why? Because for a product that is completely and totally free it doesn't suck.
Sure, there are a limitations to the product. It's difficult to build graphics and tables, there's no support for SVGs, and some features just don't work as well compared to PowerPoint. If you're looking for a powerful design program, you'll have to keep searching.
If you're okay with those pitfalls, Google Slides does have a lot to offer. The platform is based in the Google cloud, meaning there's nothing for you to download. You can also access your files from anywhere. All you need is a browser and some internet.
Where Google Slides shines is in collaboration. Multiple people can be working on the presentation at the same time, and it's easy to leave comments and make changes to the file as you go.
Pros: No download, easily collaborate, free.
Cons: No SVG support, difficult to create graphics, not as many templates and support documents.
Prezi
Prezi is a web based presentation tool that uses a zoom in/zoom out motion style instead of individual slides. It is probably the most well-known alternative to the traditional slide format we've come to associate with presentations.
Think of Prezi as one blank canvas. As your presentation advances, you move around the canvas and zoom in on the content you're talking about next. It's a great option for people who need a change of pace from the traditional slide based presentation format.
Prezi works best when the presentation follows a story arc, or when you're delivering a more informal presentation. Think company lunch and learn, not a conference keynote. The non-traditional format is what makes Prezi unique, but not appropriate for every occasion.
Many of Prezi's features are locked behind a pay-wall with a variety of payment tiers, however they do offer a 2 week free trial.
Pros: Web based, robust library of templates, something a little "different."
Cons: Paid service, easily turns gimmicky, little design support.
InDesign
It's no secret that the team here at Lightboard loves InDesign. But did you know it can be used as an extremely powerful presentation tool too?
That's right.
InDesign is a great choice if you're working with graphics that were built elsewhere in the Adobe Suite. It also has the power and precision needed to level up your presentation. Imagine the "oohs" and "ahs" you'll get because text overlaps perfectly with the image every time. InDesign makes it easy to get these details right.
Understandably moving your presentation design process to InDesign can be daunting. I highly recommend it if you have previous knowledge of the Adobe Suite. It's not as user friendly of an interface as PowerPoint, and you won't be able to open InDesign for the very first time and create something wonderful. But as with most good things in life, the practice is worth it.
Pros: Compatible with Illustrator/Photoshop, precise and powerful interface.
Cons: No design templates, difficult for a non-adobe user to go in and make tweaks.
So who's the winner here? You tell me, @lightboarding on Twitter.